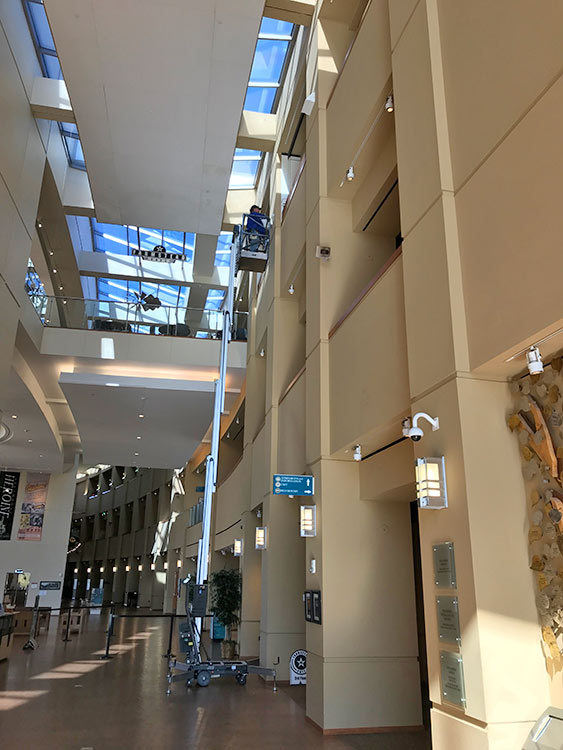 In large facilities, light fixtures aren't always easily accessible when a lamp or part of the fixture needs to be replaced. Such was the case for the Oklahoma History Center in Oklahoma City. Some of their lighting on the third-floor level had gone dark, so they contacted us. In the photo, you see us replacing the ballasts and the lamps in the wall sconces that highlight the ceiling at the third-floor level.
Hometown Full Service Electric is pleased to have sponsored the "Feed 5,000" project of Faith's Church in Oklahoma City. We were one of many who contributed time and money to support this cause as a way to give back to the community.
Faith's Church, located at Portland and I-40, set up a BIG tent for the event. Everyone is invited to this annual event held in August, that is now in its 17th year. It is estimated that around 4,000 folks attended this year (2019)... getting closer to the 5,000 goal. This year's theme was "Toy Story." There is a 15 to 20 minute program, followed by lunch and water for everyone. Backpacks with school supplies are handed out to school children.
Thank you to Faith's Church for hosting this event and putting the logos/names of sponsors on your marquee. It was nice to see our business name in lights for such a worthy cause.
Over the last 18 years, I have been fortunate to watch one of our customers, Capital Distributing, a local company here in Oklahoma City, doubling their size in growth. We have seen them move from location by the State Capital Building to a 250,000 square foot warehouse near the Police and Fire training facilities. They again continued to grow by adding-on and completing a total build-out of a 400,000 square foot facility.
Their newest achievement in modernizing the warehouse is with a new conveyor belt system. This system will move the product from all over the warehouse to the loading dock, thus enabling the products to be loaded directly into the trucks for delivery.
Hometown Full Service Electric LLC is proud once again to be a part of this growing company by installing the electrical power for the new conveyor belt system. This new system makes their company more efficient by having the "exact count wrapped and ready" for delivery of their product in a much more "inventory savvy way."